On Thursday, several inmates from the famous Kamiti Maximum Security Prison took to the roof of the facility protesting torture and bad treatment by the new management.
According to sources, inmates were protesting lack of food and the seizure of movement within the facility.
Sadly, the daily Nation has revealed that at least 20 inmates are nursing some serious injuries after a brutal beating by prison cops.
The 20 men are said to have been the ones who went on top of roof protesting ill treatment at the facility.
A source told the Saturday Nation that the beatings were so bad that the warders are concerned whether one inmate, a Sudanese national identified as Makoi Madak, will make it alive after being assaulted by officers.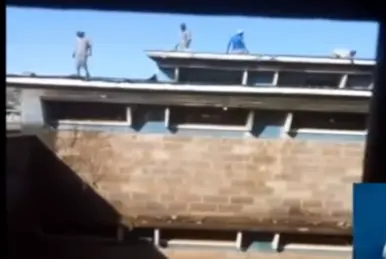 After the ruthless beating the brutalized inmates were transferred to Naivasha Gk prison.
A prisons cop revealed that since three inmates tried to escape, the rest have been going through hell.
The botched escape led to the change of guard and leadership at the facility with senior cops losing jobs and others arrested.