Robert Alai is a Kenyan renowned blogger and social media influencer. Alai is ever in the limelight courtesy of his nature of exposing what happens in our country.
Today morning he has taken to his official Twitter account to post information concerning Ruiru Police Station in Nairobi. According to it people in Ruiru are complaining over the arrests at 8:30 PM as they head home.
One civilian indicated how the police officer took away his mask and claimed that he had never worn one. He revealed that he is still nursing injuries they inflicted on him as he questioned them why they were arresting him.
The man went ahead and revealed that among those people who were seized that day include a clinical officer, a pharmacist, and a nurse who were never allowed to explain themselves.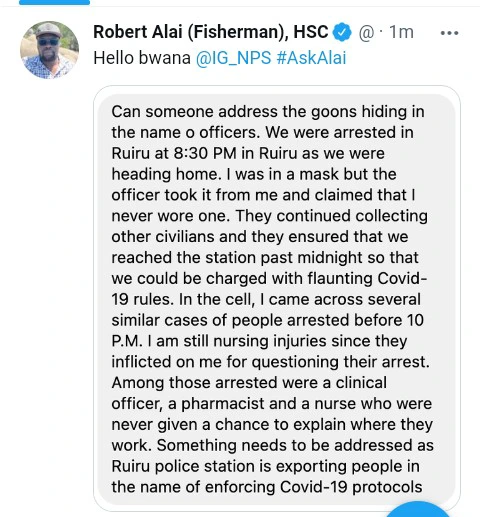 In my view, it will be important if the officers stops this kind of behavior of harassing individuals in the name of enforcing covid-19 protocols.
My dear readers what do you think of this matter? Kindly comment.
For marriage, family, love, job/promotion. Goodluck in your business/lottery, court cases, diseases and other Spells kindly call Kiwanga Doctors on +254 769404965; or CLICK HERE>>>> https://www.kiwangadoctors.com.