Just a day after deputy president's Communication Strategist Dennis Itumbi promised to expose ODM party leader Raila Odinga and his involvements in the 1982 coup, heated reactions have emerged on twitter.
The reactions followed Itumbi's Tuesday tweet where the strategist had posted a section of the documentation alleging that Raila Odinga had actively taken part in planning a failed attempt to overthrow the then, President Daniel Moi from power in 1982.
While laying bare coup plans claimed to be from written by a Major in the Kenyan airforce who witnessed the happenings, Itumbi promised to compile further documentation linking Raila to the coup that saw him going into exile for some time.
The report claimed that among other reasons that provoked Raila to overthrow Moi's government included; the way members of the Luo community in the armed forces were being treated by the government, killing of the community's elite leader Tom Mboya, detention of Raila and underdevelopment in Western Kenya among many other reasons.
"1982 Coup – Statements of the planning – I will publish them here over the next few days. Brand Violence in Kenya equals one man in Kenya #SystemYaFacts, Posted Itumbi on twitter.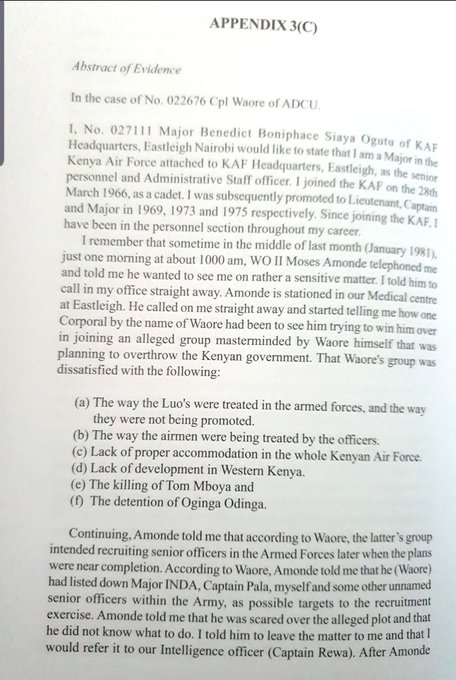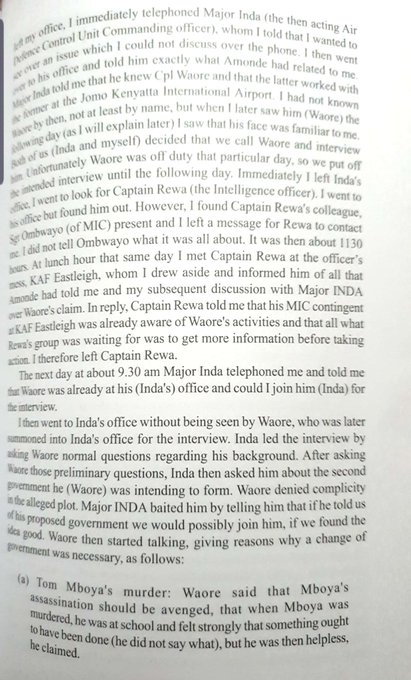 Itumbi's alleged exposure, however, attracted heated reactions from a section of twitter users with many accusing former Digital and Diaspora Communication strategist in the Office of the President of propaganda aimed at tainting Raila's reputation.
Many termed Itumbi as a hired gun majoring on the unfortunate coup to popularize his 'master' at the expense of Raila Odinga whom they say, was acting on the interests of many who had been oppressed by Moi's regime.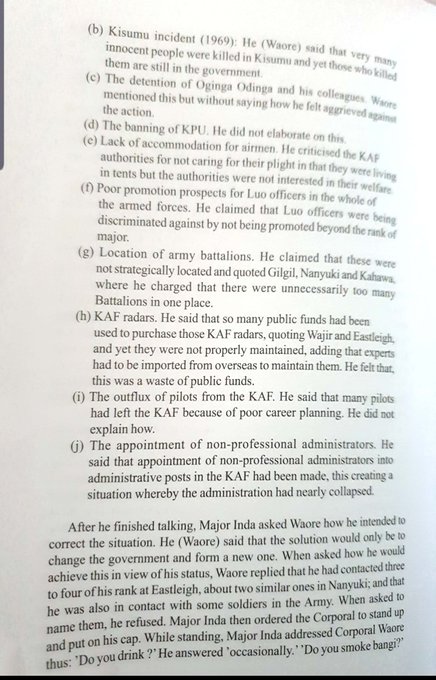 "Raila was attempting to free us from a dictator in 1982. He was fighting for a better Kenya. Only folks in NE who were under emergency rule will know. And he introduced devolution which is helping people in NE Kenya. You can disagree with his politics but he deserves credit," posted one user @Asmali7.
Here are some more tweets justifying Raila's involvement in the coup;
At your age Raila was already fighting for the freedom today U thanklessly enjoy, it funny the most U can do at this stage is yap about what Raila has done or will do… Yes he planned the Coup in 1982….so what? Fool!

— Collins Oundo (@Coundo) December 3, 2019
So Itumbi thinks that Raila followers are ashamed that Rao was the mastermind of the 1982 coup? Somebody should tell him that we are not. In fact, it's regrettable that it never succeeded. We wouldn't be facing this kind of mediocre mismanagement leadership right now.

— Geoffrey Nyong'a (@GeoffreyNyong) December 3, 2019
Ruto has now ordered Itumbi his media alter boy to embark on journey of associating Raila Odinga with 1982 coup.We should just let him vent his anger the best way he can.He is no longer the spoilt child we all knew in uhuruto first https://t.co/sp5KbrMlql Kenya Mafia are steady

— Erick Atitwa (@AtitwaGmail) December 3, 2019
Who doesn't know that raila was involved in the 1982 coup?
Or perhaps you were born yesterday. If that was to finish him, he'd be dead in months after. But look he's still giving you nightmares and ur king is really a worried man.
Publis you may but it won't change a thing

— Nero (@NeroAlejandra) December 3, 2019
Tanga tanga now looks defeated f you go by what itumbi has resulted to posting.He has been advised by Ruto supporters to unearth 1982 coup information and use it malign Raila after editing martial court proceedings.They are lacking out in strategy.

— Erick Atitwa (@AtitwaGmail) December 3, 2019
Nevertheless, some users supported Itumbi's statements claiming Raila's role in the planned Coup led to massive loss of lives and destruction of properties in 1982 hence the need for him to be exposed and taken into account.
It seems Raila zombies are worried by the history. For kids like you, @Asmali77 who don't know: many innocent Kenyans died between July 31-August 3, 1982. All this due to Raila's greed for power.

— Hon. William Chepkut (@Chepkut_William) December 4, 2019
What have you done or sacrificed for Kenya at ur personal level Mr Rasterman?

Over the years, ur friend Raila has done more harm than good to Kenya. From 1982 coup, molasses plant, to Kazi kwa Vijana theft as the prime minister.
The loot keeps landing at ur hotel#Hateful

— Tom Obama (@Obama_Tom) December 3, 2019
There was no dictatorship by Moi before the attempted coup.
Raila was only power hungry.
The coup brought in the beast in Moi

— The Disponible 🇰🇪 (@ckweldon) December 4, 2019
The Swahili say , tenda mema nenda zako. He has extended his stay. You see what greed is subjecting him to ? Time he left the stage pic.twitter.com/tHPx73FvoB

— Philip Kasaya (@PhilipSKasaya) December 4, 2019
What credit? When he has constantly put the youth of Nyanza in a rioting mode every electioneering period, most of them are killed thinking that they're fighting for Raila not knowing the man is using them for political capital, very sad.

— Patrick Mussolini (@Mussolini_P) December 4, 2019
Others, however, chose to remain neutral saying the two camps, (Ruto and Raila's) should stop blame games and instead live to the expectations of many Kenyans in the spirit of the much-hyped 2018 handshake.
Team Ruto is trying really hard to paint Team Raila as violent. They are going to extremes to exhume documents about 1982 attempted coup. Team Raila is also hitting back by claiming that Team Ruto masterminded 2007 PEV. The handshake is doing more than just uniting the country.

— #TeamMwalimuDida (@mwalimu_dida) December 3, 2019