Netizens were left in a puzzle after a photo of Harmonize and his parade of bodyguards surfaced online.
It seems being a celebrity in Tanzania is no joke and some artists take security as a serious thing.
The bodyguards are said to have tweezers and even though they don't carry physical guns with them, their well-endowed bodies serve as enough threat to those who try getting close to the artists.
This comes a few days after there was a rare spectacle witnessed during Harmonize's performance for President John Pombe Magufuli. One fan dramatically interrupted his set, forcing him to pause severally as security guards tried to control the situation.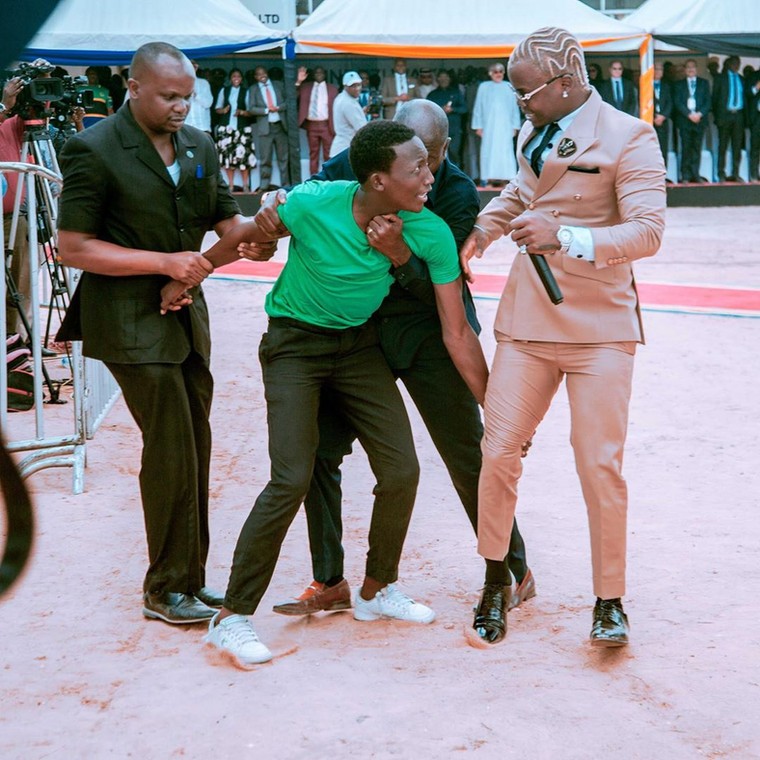 Konde Boy was among musicians who were invited to entertain guests at a function presided over by Magufuli and different dignitaries in Dar es Salaam.
Konde Boy performed his remixed Kwangwaru song under the tag Magufuli that praises the Head of State, documenting all the projects (achievements) he has worked on since being elected.
Addressing the scuffle, the Kwangwaru hit maker said that he decided to handle the unfortunate incident as a blessing in disguise, because the event had so many artistes but the fan settled on him.
Here were some reactions:
Hawa walinzi wote walikuwa wapi mpaka anavamiwa na yule jamaa wakati anaperform

— Jackson (@mbogela) September 16, 2019
Guka Ngiabi Wa Kinyua All I can see is uniforms no weapons to defend him in case of an attack.
If it's martial arts, there is always someone more lethal than you there outside.
Show biz tu
Kevin Sanky Karanja I think wako league yao kivyao….coz even now my background music is this guy n Diamond…somehow I can't just get enough of their songs.
Benjah Njoroge This is just PR, nobody makes money more than Diamond.
Onyango Ochieng Jr. Those flak-like bags contain chewing gums.