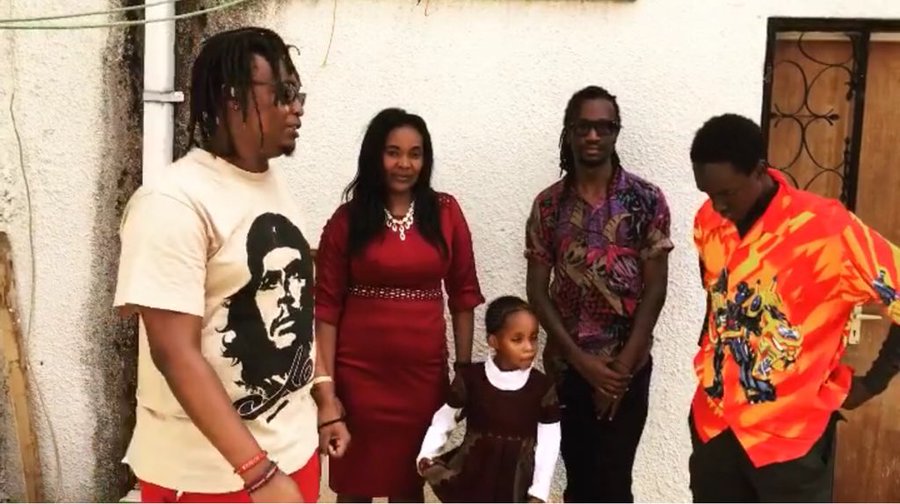 Gengetone artists Ochungulo family have impressed Kenyans after they took time to identify the girl behind their hit song "Mbigijii imekulwa na ndogii."
Initially, Ochungulo family did the Mbigijii song as a way of celebrating the kid and indeed they had something special for her. Taking to their Instagram page, the group shared the great news with their fans saying they finally met her and her name is Happy.
"Wolaaaan!! We managed to get a hold of the little girl who's voice eclipsed into the Mbinginji viral audio. She travelled all the way from Meru to meet @ochungulo_family."
In a bid to show their support for the little girl, the group shall be catering for her school fees for the next year.
In a previous interview, the group said the had to do the song because her accent and voice was wonderful and she deserved the recognition.
Ochungulo Family is a group that make music out of anything and they believe that they can create a big impact on Kenya's entertainment industry. "Mbigijii imekulwa na ndogii" is the new word on the streets termed by a kid from Meru whose video went viral.
Below were some reactions from their fans:
that's very noble,, more blessings to them

— Jasiel Nderitu (@JasielNderitu) September 23, 2019
Yoh this is amazing. Blessed is the one who giveth
Just an idea to my G's, why don't you try to reach out to a club in Meru place mtateka wasee kibao or a tour like thing in Meru with the little girl then part of the cash raised imwendee yeye na familia?
This is So Great I just love you guys 🔥🔥📭⚒️😋🥰🥰
@ochungulo_family Jah 🙌bless whatever you r planning to do to this young girl is so motivative 🙌🙌one love from pango🙌
That's power my GS… Mungu awabariki tena na tena @ochungulo_family 🚨🚨🚨